At Jacks Tire Shop, we have built and sustained our business through customer service and interaction. We realize that our customers need trustworthy, dependable, and well-informed people to help guide them through the process of buying or repairing their car or truck tires. So allow us to introduce ourselves! Below is an article from the Richmond Times-Dispatch featuring none other than Mr. Jacks Tire Shop himself, Jack Nasser. Pleased to meet you!
(from Richmond Times-Dispatch, March 15, 2009)
Values Sustain Immigrant Businesses In Downturn
-by John Reid Blackwell-
Even in this economy, people launch businesses. For instance, Jack Nasser of Henrico County dipped into his savings and opened a used-auto dealership in Ashland last year.
If past experiences hold true, many of those fledging businesses in Virginia and the nation will be started by immigrant entrepreneurs such as Nasser, who moved to the U.S. from Singapore in 2005 with his wife, a native of the Richmond area.
In Virginia, the number of Hispanic-owned and Asian-owned firms grew 31 percent and 36 percent, respectively, from 1997 to 2000. About 17 percent of all new-business owners in the U.S. are immigrants, according to the Small Business Administration.
Nasser and other area immigrant entrepreneurs, new and seasoned, said they rely on traditional values such as being thrifty, avoiding excessive debt and relying on family support — values that play well in this economy — to launch and run their companies.
"Most of the foreigners who come here to do business — they start with their own savings," said Nasser, who has relied on family and friends to help him get his operation running.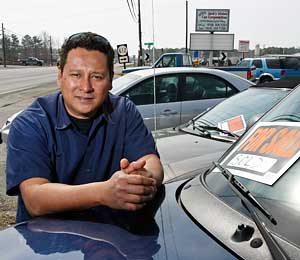 A pay-as-you-go philosophy of business often carries more weight for immigrants who have grown up in cultures where credit is not as readily available as in the U.S., said Gregory Fairchild, an associate professor of business administration at the University of Virginia's Darden School of Business.
Relying on personal savings carries more weight, too. He noted that some Asian cultures, for example, have savings rates as high as 15 percent to 20 percent, while the U.S. savings rate has been in the low single digits for years.
Nico De Leon, owner of NXL Inc., an engineering and surveying firm in Richmond, moved here from the Dominican Republic to attend school in the late 1970s.
He said his experiences growing up in the Dominican Republic, where even electricity service was not a guarantee, have given him some perspective on economic downturns.
"You are used to bootstrapping," he said. "You are used to the idea that you are going to have lean years, possibly quite a few."
De Leon started his business in 1991, with himself as the only employee. His firm now employs about 100 people working on projects around Virginia.
Tony Sappal, owner of the India K'Raja restaurant on West Broad Street in Henrico County, also relies on some of the principles he learned growing up in New Delhi.
"From back home, the lesson I learned is you have got to do things within your means," he said. "Everybody does need help from some kind of credit. Back home, people would take private borrowings from family and friends and then pay it back."
Veda Shekhar, a Richmonder originally from India, owns and operates Eagle Travels, an agency that specializes in trips to India and the Far East. She said she has held fast to the principle of avoiding leverage. "Personally, we do not believe in taking on debt," said Shekhar, whose husband has a job in financial services.
 She started her business on a shoestring budget, spending only a few hundred dollars on training and equipment. She has relied largely on word of mouth to promote her business, which she operates out of her home.
Tinh Phan, an Ashland businessman and chairman of the Virginia Asian Chamber of Commerce, said immigrant groups have traditionally relied on family networks for help in starting businesses.
"They start from scratch," he said. "They are not big spenders, and they try to be self-sufficient."
Phan said he started his construction subcontracting business 25 years ago by borrowing $12,000 from family members. He paid it back six months later.
The small business Phan started with that seed money has grown into PNC Companies, which has about 50 employees and specializes in commercial construction contracting and manufacturing aluminum windows and doors.
Asian-American owned business in particular seem to be more reluctant to take on debt, Phan said. There are advantages and drawbacks to that kind of thinking.
"Every single culture has good parts and a bad parts," he said. "The good part to learn from [Asian] culture is to have the good self-discipline not to get in debt when you can't afford that."
On the other hand, "you have less chance to expand yourself," without relying on mainstream financing, he said.